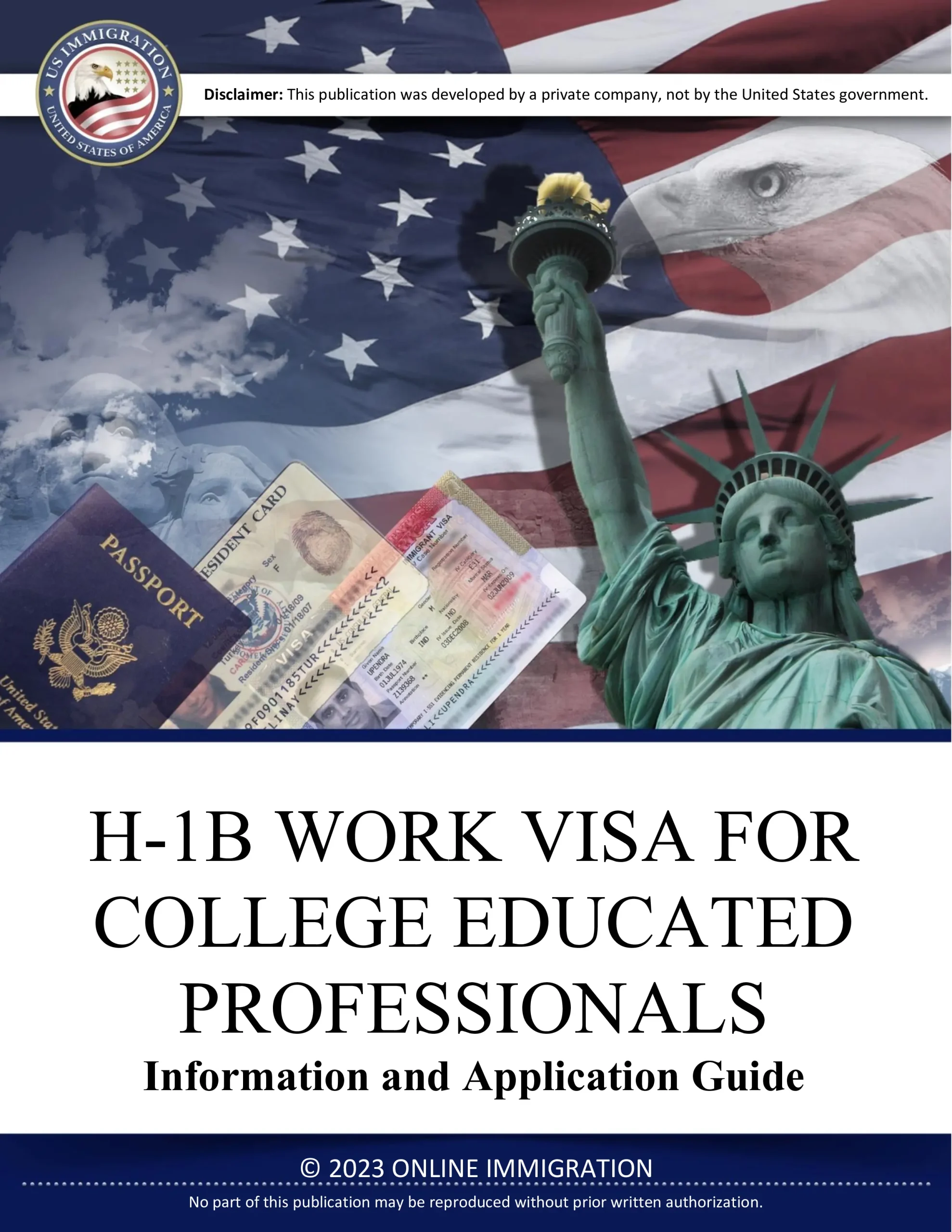 H1B Work Visa for College Educated Professionals
The H1B Visa program plays a crucial role in facilitating the contribution of professionals in "Specialty Occupations" to the American economy. Each year, a maximum of 65,000 H-1B Visas are issued, offering talented individuals the opportunity to work and thrive in the United States. The initial H-1B Visa is granted for up to three years, with the possibility of extensions, allowing for a maximum total stay of six years.
One significant advantage of the H-1B Visa is the potential pathway to permanent residency. If an employer is willing to sponsor their H-1B employee, the visa holder can apply for a Green Card, offering the prospect of long-term residency in the United States.
Start Application Immediately
Easy to Understand Instructions
Apply Online or by Mail
Pricing and Fee Information Included
Checklist of Required Documents
Unlimited Online Support
H1B Visa Guide Content
H1B Work Visa Overview
H1B Visa Requirements
H1B Work Visa Benefits
H-1B Work Visa Drawbacks
H-1B Work Visa Eligibility Information
How to Apply for a H1B Work Visa
H1B Work Visa Interview Information
How to Find an H1B Jobs and Sponsor
H-1B Visa Additional information
Visa Eligibility Information
List of Required Documents
Information on Filing Fees
Frequently Asked Questions (FAQs)
List of USCIS Offices Nationwide
Directory of U.S. Embassies and Consulates
Information on how to obtain the latest United States immigration forms
Download H-1B Work Visa for Professionals with a College Education Guide for more information
General Information on H1B Business Visas:
The H-1B Non-Immigrant Work Visa is designed for individuals seeking temporary employment in the United States in a "Specialty Occupation" that requires professional skills. A "Specialty Occupation" encompasses a wide range of fields, including accounting, computer analysis, programming, database administration, web design, engineering, financial analysis, medicine, nursing, scientific research, architecture, and law.
Employers are responsible for submitting petitions on behalf of their non-U.S. resident employees, demonstrating the need for their skills and expertise. H-1B Visa holders are required to hold at least a bachelor's degree in a relevant field. However, in some cases, relevant work experience can serve as a substitute for formal education, depending on the individual's circumstances.
It is crucial to note that the H1B Visa program undergoes specific regulations and limitations, such as an annual cap on the number of visas issued. It is advisable to consult with immigration professionals or refer to official U.S. government resources for accurate and up-to-date information on the specific requirements and procedures for obtaining an H1B visa.
Other US Work Visas:
The H-1B Work Visa Application Guide
Our comprehensive H-1B Work Visa Application Guide provides invaluable assistance in navigating the complex process of applying for an H-1B visa. This guide covers essential topics such as eligibility criteria, documentation requirements, application procedures, and tips for a successful application. It also addresses common challenges and offers insights to maximize your chances of obtaining an H-1B visa. Whether you are a college-educated professional or an employer sponsoring a foreign worker, this guide is an indispensable resource, providing clarity and step-by-step guidance to ensure a smooth and effective H-1B visa application process. Save time and avoid potential pitfalls by having our guide at your disposal throughout your H-1B visa journey.