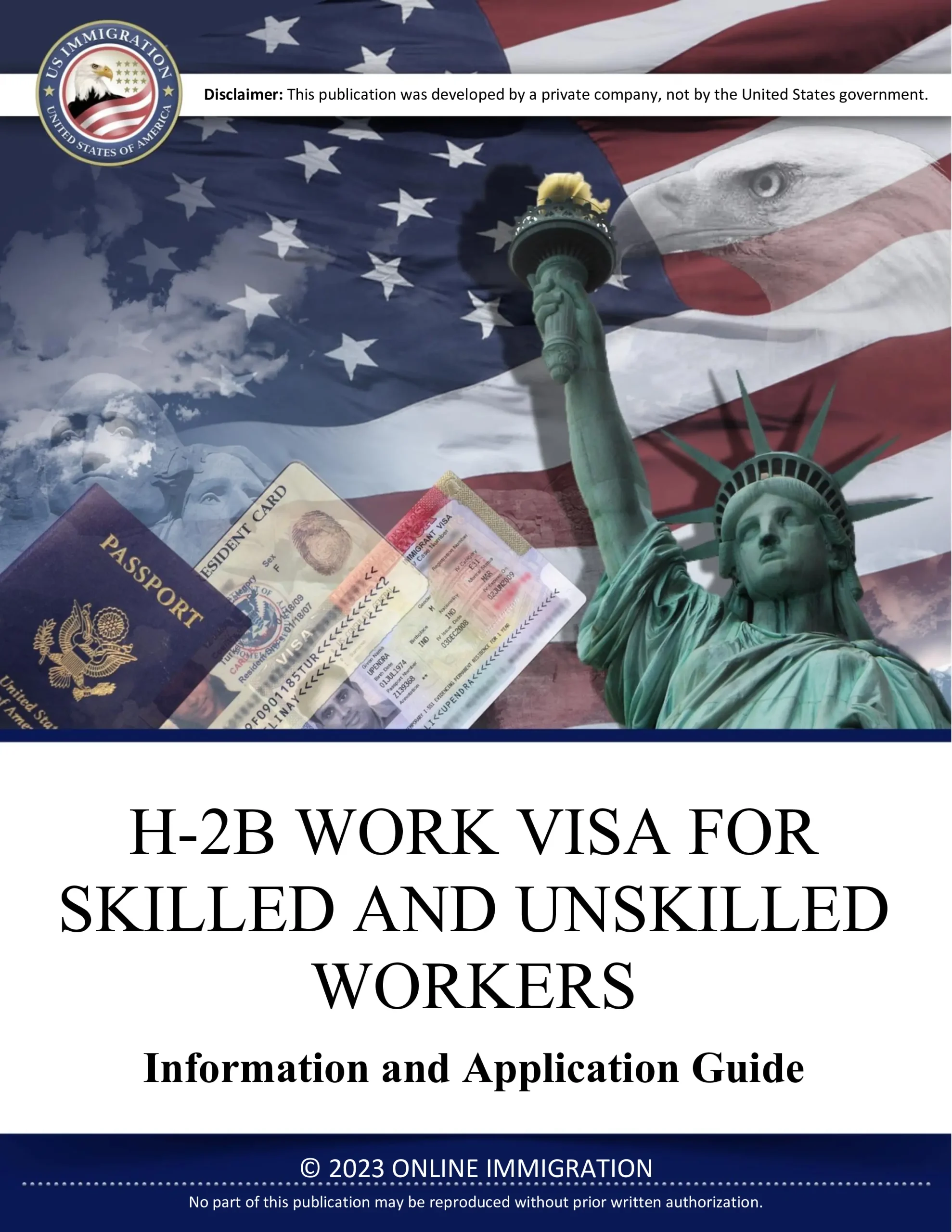 H2B Visa for Skilled and Unskilled Workers
The H-2B Visa serves as a temporary solution to address labor shortages in non-agricultural sectors in the United States. It provides an opportunity for foreign workers to contribute their skills and expertise in industries where there is a limited supply of domestic workers. Annually, up to 66,000 H-2B Visas are issued to eligible applicants, enabling them to work in the United States for a specified period.
With the H-2B Visa, employers can fulfill their seasonal or peak-time labor needs, while foreign workers can gain valuable employment experience in various sectors. As the H-2B program remains an essential resource for meeting labor demands, there are promising prospects that H-2B Visas will continue to be available in the coming years.
Start Application Immediately
Easy to Understand Instructions
Apply Online or by Mail
Pricing and Fee Information Included
Checklist of Required Documents
Unlimited Online Support
H2B Work Visa Guide Content:
H2B Work Visa Overview
H2B Visa Requirements
H2B Work Visa Benefits and Drawbacks
H2B Work Visa Eligibility Information
How to obtain a "Temporary Labor Certificate"
How to Apply for a H-2B Work Visa
H-2B Work Visa Interview Information
How to Find an H2B Job and Sponsor
How to Apply for a H-4 Visas for the Spouse and Children
H2B Visa Additional information
Visa Eligibility Information
List of Required Documents
Information on Filing Fees
Frequently Asked Questions (FAQs)
List of USCIS Offices Nationwide
Directory of U.S. Embassies and Consulates
Information on how to obtain the latest United States immigration forms
Download H-2B Work Visa for Skilled and Unskilled Workers Guide for more information
H2B Visa Requirements and Eligibility:
The H-2B Work Visa is available for individuals seeking temporary or seasonal non-agricultural employment opportunities provided by U.S. employers. To qualify, applicants should possess the required background, skills, or natural abilities necessary for the specific job offered by the employer. The H2B category caters to both skilled and unskilled workers, accommodating a diverse range of professions and industries.
By meeting the eligibility criteria and demonstrating suitability for the job, individuals can explore opportunities to contribute their expertise in various sectors such as hospitality, construction, landscaping, and more. It is important to note that specific requirements and documentation may vary depending on the nature of the job and the employer's needs.
Other Work Visas:
The H2B Work Visa for Skilled and Unskilled Workers Application Guide
Our comprehensive H-2B Work Visa Application Guide is meticulously designed to provide aspiring skilled and unskilled workers with a detailed roadmap for a successful H-2B Visa application. This invaluable resource offers step-by-step guidance, ensuring applicants have a clear understanding of the entire process, from eligibility requirements to the final submission.
Inside the guide, you will find comprehensive information on the necessary documentation, application procedures, and essential tips for maximizing your chances of obtaining the H-2B Visa. We have compiled all the essential details in an easily understandable format, eliminating confusion and simplifying the application process.