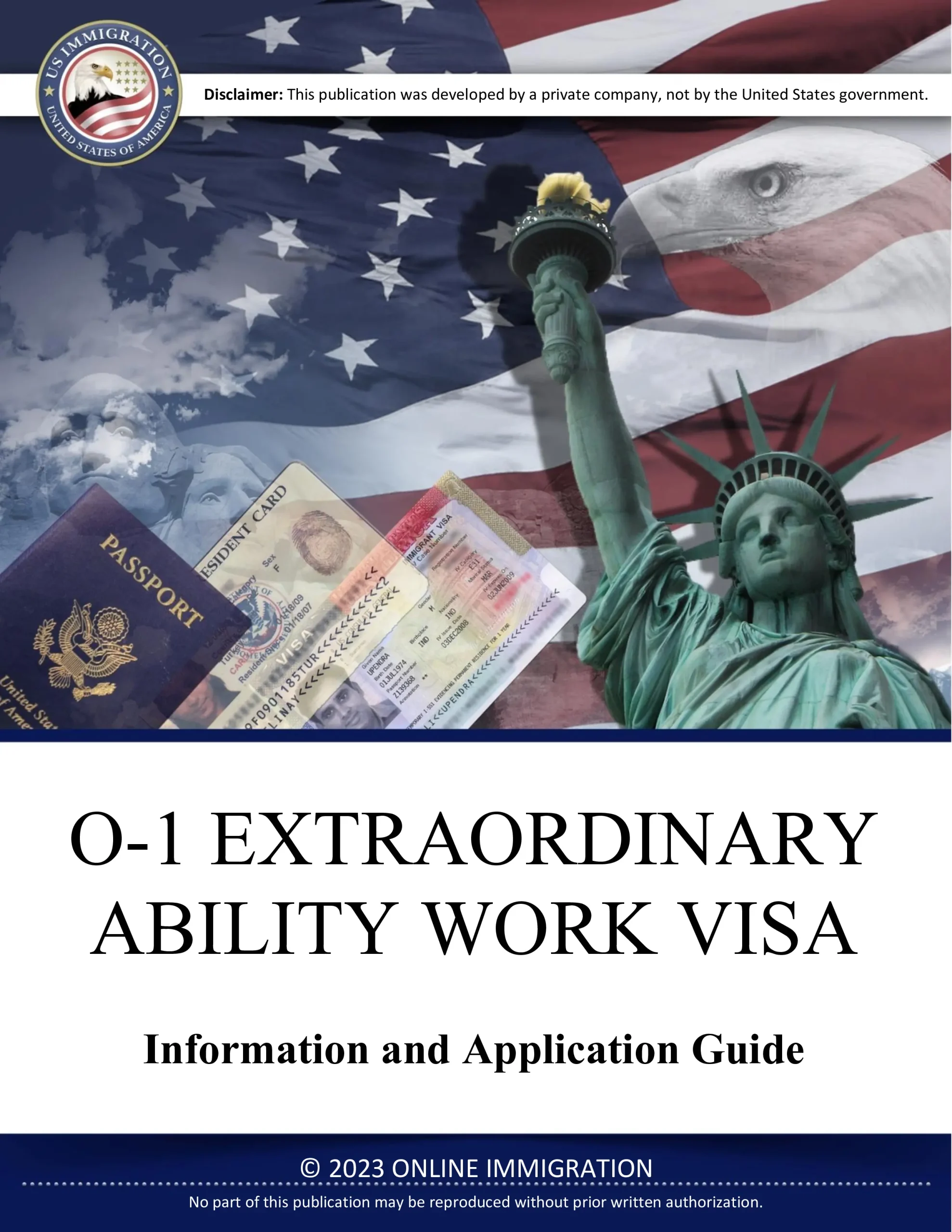 O1 Extraordinary Ability Work Visa
O1 Visa: The O Visa classification consists of three visas: O-1, O-2 and O-3. The O-1 Visa is for individuals with extraordinary abilities within science, arts, education, business, or athletics at the national or international level. Individuals with a record of extraordinary achievements within motion picture and/or television can also apply for the O-1 Visa as long as the work performed is in an area of extraordinary achievements. O-2 Visas are for supporting individuals of the O-1 Visa holder, and the relationship between the O-1 and O-2 Visa holder must have been long lasting. The spouse and unmarried children of O-1 Visa holders are entitled to O-3 Visas to come to the United States with the main O-1 Visa holder. For more information on family-based immigration refer to the corresponding page. The O-1 Work Visa for persons with Extraordinary Ability Application Guide is an informative, comprehensive, and easy to understand guide to the O-1 Visa and contains everything an individual needs to know in order to successfully apply.
Start Application Immediately
Easy to Understand Instructions
Apply Online or by Mail
Pricing and Fee Information Included
Checklist of Required Documents
Unlimited Online Support
O1 Visa Content Guide
Overview of O1 Work Visa for extraordinary ability worker visa
O1 Visa Requirements
01 Work Visa Benefits and Drawbacks
O1 Visa Eligibility Information
How to Apply for a O-1 Work Visa
Work Visa Interview Information
How to complete the Application Forms
O1 Visa document checklist
Description of extraordinary abilities within the area of science, arts, education, business, athletics, motion picture and television necessary to obtain the O1 Visa
O1 Visa Additional information
Learn about O-1, O-2 and O-3 Work Visa
Description of the individual supporting criteria necessary to obtain the O-2 Visa
How to get O-3 Visa for spouses and children
How to apply at a U.S. Consulate
How to change your status if you already are in the U.S.
List of Required Documents
Information on Filing Fees
Frequently Asked Questions (FAQs)
List of USCIS Offices Nationwide
Directory of U.S. Embassies and Consulates
Information on how to obtain the latest United States immigration forms
Download O-1 Extraordinary Ability Work Visa Guide for more information
O1 Visa Requirements and eligibility:
To qualify for an O1 Visa, the work performed must be temporary in nature. The applicant must possess extraordinary skills that are recognized and acknowledged within their specific field, which can include sciences, arts, education, business, athletics, or the motion picture and television industry.
Examples of proof of extraordinary ability can include contracts, awards, nominations, prizes, published materials, or similar documentation that demonstrates the nature and significance of the individual's achievements. These pieces of evidence serve as a means to showcase the exceptional talent and contributions of the applicant.
It's important to note that meeting the extraordinary ability requirement is key to obtaining the O1 Visa. Additionally, the work performed must be in a specific field where the individual's abilities are considered outstanding and have garnered notable recognition.