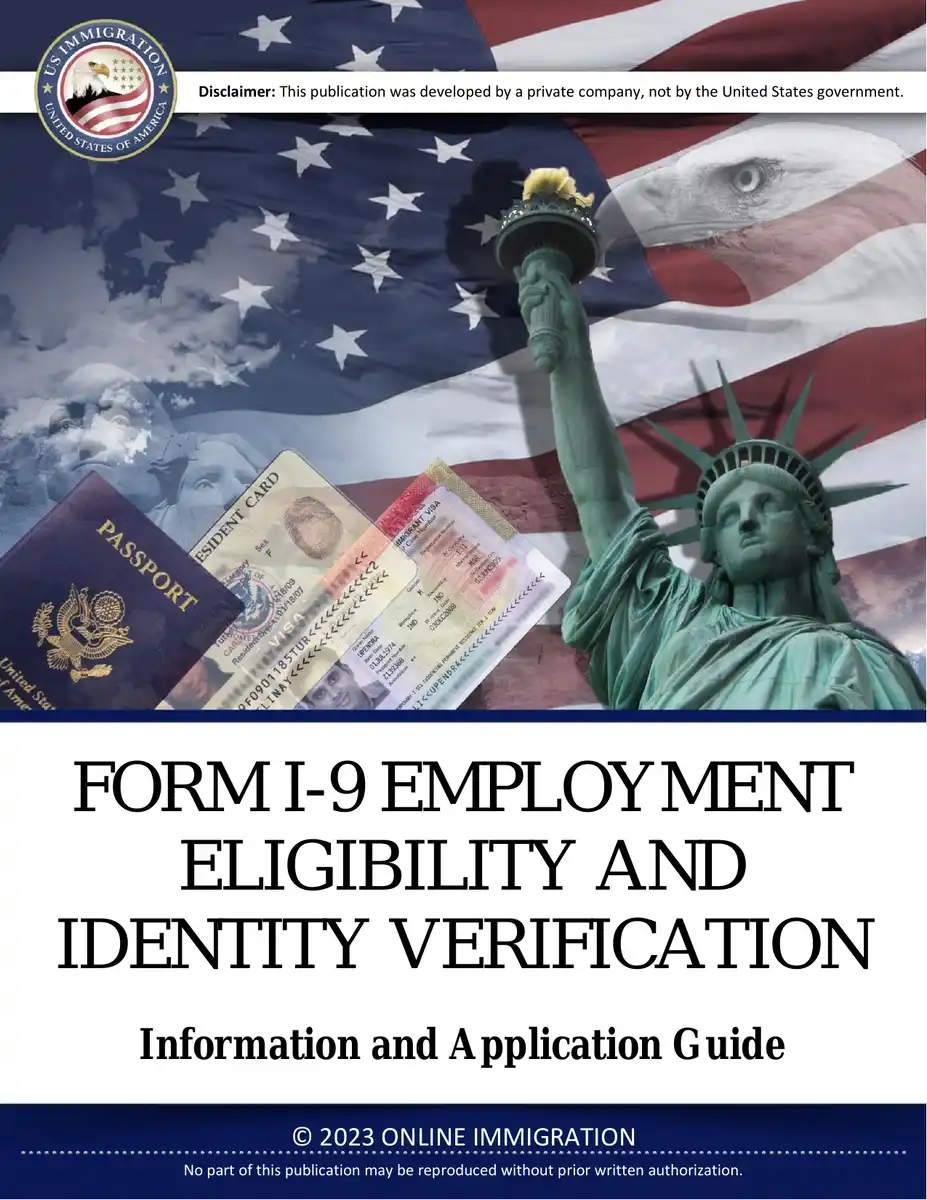 Form I-9 Employment Eligibility and Identity Verification
The Immigration Reform and Control Act requires all U.S. employers to verify the employment eligibility and identity of all employees as of November 6, 1986. This includes the verification of the individual's identity and work eligibility.
Start Application Immediately
Easy to Understand Instructions
Apply Online or by Mail
Pricing and Fee Information Included
Checklist of Required Documents
Unlimited Online Support
What's included
Overview of Form I-9 Employment Eligibility Verification
Who should file Form I-9
How to complete Form I-9
What supporting documentation to include
Who is responsible for verifying the documents
Procedures for U.S. Citizens, Green Card Holders and individuals on temporary work visas
Additional information regarding Form I-9
How to submit Form I-9 to ICE or Department of Labor (if requested)
Information on where to download Form I-9 Employment Eligibility Verification
How employees can obtain the required documents (Green Card, Social Security Card, etc.)
Frequently Asked Questions (FAQs)
List of USCIS Offices Nationwide
Directory of U.S. Embassies and Consulates
Information on how to obtain the latest United States immigration forms
Download Form I-9 Employment Eligibility and Identity Verification Guide for more information
Employer Responsibility:
It is the employer's responsibility to ensure that the appropriate documentation is provided to every new employee hired after November 6th, 1986. There are stiff penalties for not being able to provide Form I-9 for all employees upon request. The employer has the right to refuse the employee their job if they are unable to furnish the required documents. There are certain exceptions as to who Form I-9 is applicable for, such as independent contractors, employees hired from employment agencies, and employees hired before November 7, 1986.
Penalties for non compliance with Form I-9:
Employers who fail to properly complete, retain, or make I-9 Forms available for inspection, face fines ranging
from $100 to $1,100 per individual I-9.
For employers who knowingly hire or knowingly continue to employ unauthorized workers, civil penalties range
from $250 to $11,000 per violation.
For employers engaging in a pattern or practice of knowingly hiring or continuing to employ unauthorized
workers, criminal penalties can be as much as $3,000 per unauthorized employee and/or 6 months of imprisonment.
Employee Responsibility
Even though the employer is responsible for providing a newly hired employee with Form I-9, the new employee must still complete Section 1 of Form I-9 by the end of the first day of work to be in compliance with the Immigration Reform and Control Act. In the event that the company is not aware of this legal requirement, it is strongly recommended that any new employee provide the employer with Form I-9 to ensure that his or her new workplace is in compliance with federal regulations.
Genuineness of work eligibility and identity documents
The employer must review the genuineness of the documents provided the employee. Employers may encounter the following two scenarios:
A document accepted is not genuine
The document accepted is genuine but does not belong to the person that provided it
The employer can refuse to accept a document that does not appear to be genuine. If the prospective new employee cannot provide an acceptable document, he or she should not be allowed to continue to work. The Immigration Reform and Control Act of 1986 (IRCA) makes it unlawful for United States employers to knowingly hire or continue to employ unauthorized workers. Whether the illegal employment is intentional or merely due to an oversight or lack of knowledge, the employer may still be subject to fines as defined by the Department of Homeland Security.