ESTA Visa Waiver: Hoe bezoekt u de Verenigde Staten (ESTA)?
Als u van plan bent de Verenigde Staten te bezoeken voor zaken, toerisme of op doorreis, is het belangrijk dat u het ESTA Visa Waiver Programma begrijpt. Deze pagina biedt een diepgaand overzicht van het programma en helpt het aanvraagproces voor potentiële reizigers te vereenvoudigen.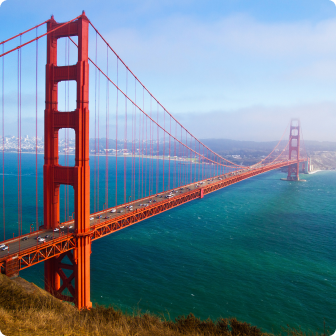 Wat is een ESTA-visumvrijstelling?
Het Electronic System for Travel Authorization (ESTA) is een integraal onderdeel van de inspanningen van de Amerikaanse overheid om de veiligheidsmaatregelen voor inkomende internationale reizen te verbeteren. ESTA, geïntroduceerd door het Amerikaanse ministerie van Binnenlandse Veiligheid in 2008, is een geautomatiseerd systeem dat passagiers screent voordat ze naar de Verenigde Staten vertrekken. In tegenstelling tot een traditioneel visum, dat langere verwerkingstijden en persoonlijke interviews met zich mee kan brengen, is ESTA voornamelijk een online aanvraagsysteem dat zowel sneller als efficiënter is.
Het primaire doel van ESTA is om te beoordelen of personen uit Visa Waiver Program (VWP)-landen in aanmerking komen en ervoor te zorgen dat zij geen veiligheidsrisico vormen. Dit pre-autorisatieproces omvat een onderzoek van de persoonlijke gegevens, paspoortinformatie en andere essentiële gegevens van een aanvrager. Op basis van deze beoordeling krijgen reizigers toestemming om aan boord van vluchten naar de VS te gaan, of wordt hen geadviseerd een visum aan te vragen via de traditionele route.
Hoewel ESTA het proces voor veel toeristen en zakenreizigers heeft gestroomlijnd, is het van cruciaal belang op te merken dat goedkeuring niet gelijk staat aan automatische toegang tot de VS. Het dient slechts als een eerste stap, waarbij de houder toestemming krijgt om aan zijn reis te beginnen, met de het definitieve besluit over binnenkomst ligt bij aankomst in de handen van de Amerikaanse douane- en grensbeschermingsfunctionarissen.
Visa Waiver Program Aangewezen landen
Andorra
Australia
Austria
Belgium
Brunei
Chile
Croatia
Czech Republic
Denmark
Estonia
Finland
France
Germany
Greece
Hungary
Iceland
Ireland
Israel
Italy
Japan
South Korea
Latvia
Liechtenstein
Lithuania
Luxembourg
Malta
Monaco
Netherlands
New Zealand
Norway
Poland
Portugal
San Marino
Singapore
Slovakia
Slovenia
Spain
Sweden
Switzerland
Taiwan
United Kingdom