Kako pridobiti dovoljenje za potovanje v ZDA (ESTA)
Potovalna odobritev za ZDA, splošno znana kot Elektronski sistem za potovalno odobritev ali ESTA, je ključnega pomena v ameriškem pristopu k ureditvi mednarodnih potovanj. To ameriško potovalno dovoljenje, ki ga je razvilo Ministrstvo za domovinsko varnost ZDA, deluje kot digitalni sistem in preverja obiskovalce, ki prihajajo iz držav, ki so vključene v program Visa Waiver Program (VWP), preden se odpravijo na pot v Združene države.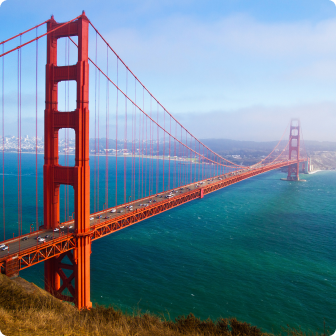 Potovalno dovoljenje za ZDA (ESTA) je bilo v bistvu vzpostavljeno za ocenjevanje in poenostavitev sprejema kratkoročnih potnikov v ZDA. Ker se je v digitalni dobi povečalo število mednarodnih potovanj, se je pojavila potreba po učinkovitem sistemu, ki bi lahko ocenil upravičenost potnikov, ne da bi pri tem ogrozil varnost. ESTA kot platforma za odobritev potovanj v ZDA se na to potrebo odziva tako, da ponuja spletno storitev, v katero potniki vnesejo svoje osebne podatke, od osnovne identifikacije do podrobnejših informacij o svojem zdravju, preteklih potovanjih in druge podatke.
Potovalno dovoljenje za ZDA po odobritvi ostane aktivno dve leti in v tem času omogoča večkratne vstope. Potniki si morajo vedno zapomniti, da odobreno dovoljenje za potovanje v ZDA ne zagotavlja samodejnega vstopa v ZDA. Potniku le daje pravico, da se vkrca na vozilo, namenjeno v ZDA, končno odločitev o sprejemu pa sprejmejo cariniki in mejni policisti ob prihodu.
Vključene države v program Visa Waiver Program
Andorra
Australia
Austria
Belgium
Brunei
Chile
Croatia
Czech Republic
Denmark
Estonia
Finland
France
Germany
Greece
Hungary
Iceland
Ireland
Israel
Italy
Japan
South Korea
Latvia
Liechtenstein
Lithuania
Luxembourg
Malta
Monaco
Netherlands
New Zealand
Norway
Poland
Portugal
San Marino
Singapore
Slovakia
Slovenia
Spain
Sweden
Switzerland
Taiwan
United Kingdom